The People to Call for Expert Roof Plumbing Maintenance in Melbourne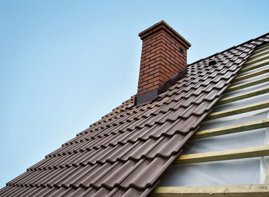 Do you need to replace, extend or install a new roof? Or perhaps you need someone to provide a leaking roof repair for your home? Whatever it is, Urban Tide Plumbing has all your roofing needs covered.
As a trusted Melbourne company, we understand how stressful it can be to experience a roofing issue and not know what to do or who to call. That's why we take away all the guesswork and confusion by providing truly exceptional solutions that you can rely on.
Whether it's a new home, extension, carport or patio, we can install roofing, downpipes and gutters to ensure your property is in top shape. We also offer roof maintenance services and fix leaking roofs quickly and affordably, so you can go back to normal in no time.
Get in touch with us today on 0411 218 654 to learn more or book your quote!
Why choose us for roof plumbing maintenance?
Your roof is the most important structure in your home, so it's important that you only allow experienced professionals to work on it. Here at Urban Tide Plumbing, we have many years of experience in the roofing industry. We have a solution for every problem, whether you need us to fix leaking roofs, provide downpipe repairs or install a brand-new structure altogether.
Our priority is always to offer you exceptional results and customer service to match. By keeping you in the loop during all repairs and installations, you can have peace of mind that your home is in great hands. On top of this, we proudly offer competitive prices on all our services while still maintaining the highest quality service possible.
From gutter and downpipe repairs to leaking roofs, we do it all
No matter what problem you're experiencing with your roof, give us a call and we'll be able to organise a quick and convenient repair. We offer a long list of roof repair, maintenance and installation services, including:
Roof plumbing maintenance

General roof maintenance

Downpipe installation

Gutter installation

Leaking roof repair
On top of this, we offer a variety of gas fitting and general plumbing solutions for commercial and industrial properties as well as residential homes. This includes installing and repairing gas ovens, BBQ's, spas, heaters, hot water systems and more! We can even fit out your new home, renovation or extension to ensure that everything is in great shape.
With our exceptional attention to detail and unparalleled expertise, we ensure that your property is well-looked after from start to finish. For you, this means peace of mind knowing that our solutions will last the long-haul.
Speak to someone from our team!
If you're looking for someone to fix leaking roofs, install gutters and downpipes or simply provide some roof plumbing maintenance, look no further than Urban Tide. Give us a call on 0411 218 654 for more information or to book your quote!

Emergency Leaks & Pipe Bursts
If you have an emergency plumbing need, simply call our 24 hour emergecny plumbing
0411 218 654 OR Contact Us