Experienced and Reliable Gas Fitting in Melbourne's South East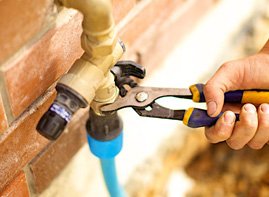 Whether it's a broken stove or a dreaded gas leak, most homeowners experience a gas-related repair problem at some point. In these situations, it's important to have an experienced and reliable gas fitter to turn to for a solution. And for Melbournian's, Urban Tide Plumbing is the answer.
Our team of friendly staff are highly trained and experienced in gas fitting and gas installations. We can install, service and repair a range of gas appliances including gas meters, gas hot water services, gas ovens, stoves and cooktops and gas BBQ's, as well as gas wall furnaces, fireplaces and spas.
We also offer a gas leak detection service, allowing us to quickly identify and fix gas leaks so they don't cause you or your family any issues. So, no matter what the problem is, if you're in need of expert gas fitters throughout the south east, give us a call on 0411 218 654.
Put your trust in our expert Melbourne gas fitters
Gas-related issues in the home or commercial space are no joke. This is why the team at Urban Tide Plumbing aim to make our customers feel assured and comfortable while carrying out our gas fitting services. Our friendly experts always keep you in the loop, aiming to get the job done as quickly and affordably as possible every time. On top of this, we make sure to use the highest quality technology and materials, ensuring that you receive a long-lasting, reliable solution.
This is the approach that has helped us become the go-to gas fitting professionals throughout Melbourne's south east over the years. Our customers know that when they call Urban Tide Plumbing, – no matter what for – the solution will be second to none.
Offering a wide range of plumbing solutions
Here at Urban Tide, we don't just offer exceptional gas fitting and repair solutions. Our wide range of commercial and domestic home services help you keep your home in top shape, whether it's by repairing something as quickly and expertly as possible, installing new devices or simply maintaining the home you already have.
Our range of services includes:
24/7 emergency plumbing

Drain cleaning

Drain blockage and clearing

Hot water system

General maintenance

And more!
All our services are carried out by highly trained and experienced professionals. We take pride in our exceptional customer service and always strive to provide an easy and affordable experience. This is what makes us one of Melbourne's most trusted plumbing and gas fitting services.
Book a quote today!
No matter where you are in Melbourne's south-east, make Urban Tide Plumbing your go-to gas fitters for all your commercial or home needs. Get in touch with us today on 0411 218 654 for more information or to organise a quote!

Emergency Leaks & Pipe Bursts
If you have an emergency plumbing need, simply call our 24 hour emergecny plumbing
0411 218 654 OR Contact Us